Background: I was getting back home from school one day but noticed the front tire of my cycle was deflated. The nearby shops were closed that day, and I had to walk nearly than two kilometers to get to the nearest cycle pump. The last time this happened, I manually walked that distance. But this time, one of my friends - having a scooter - offered me help.
Situation: My friend rode his scooter slowly, while I sat on the backseat of the scooter. The scooter is like this: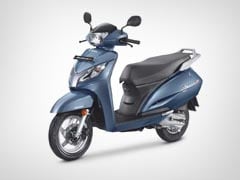 I held onto my cycle through the middle of its handle ("middle" = that part from where a rod extends downwards into the front tire). My left hand gripped the cycle handle at about my waist level height when sitting.
Problem: within thirty seconds of his starting to ride, my balance completely corrupted. He didn't stop the scooter and my cycle's front tire started spiraling. Ultimately, my left foot got entangled in the front spokes of the tire. The front tire did a 180 deg spin, the cycle fell (and I twisted my leg, but somehow saved myself from falling over my bicycle). I obviously want to avoid this from happening again.
My question: What is the most effective method to hitch my bicycle in this situation?